Once upon a time in 2016,
I used to live in the Coronado Neighborhood in Central Phoenix. It was an overall uplifting experience, especially because I was located "close enough" to all of my favorite Art events, restaurants, and local Arts culture. When I approached him last June, I did not know that some of the coolest Art I've ever seen would be so close by all along! The reality is that I met Jack as a stranger who owned the houses next door. I was walking past his house for the 100th time — likely on my way to The Coronado Phx cafe — admiring the houses. They were both historic homes which were joined on a single lot by a front gate and a back yard.
I introduced myself,
and he said his name was Jack. No, this is not Sabina's father Jack Stuler, who this article is about. But this was a different Jack, who was Sabina's husband. I met Sabina soon after meeting Jack. The day I met him he mentioned her name. He said I should say hi if I saw her outside, so I did one time. All the Jack Stuler Artworks — at that time — was being held at their houses, right there next door to my old apartment. I think I was attracted to the love exuding from these two people and their historic homes. One of their homes is a well-rated airbnb listed property with a restored interior. They live in the other home next door. At that moment in time that we met, I was about to move out of AZ to travel for work.
FACTS about Jack Stuler
Award winning even as a snot nosed brat 😉
All the Jack Stuler photographs are show pieces that are phenomenal and strange and beautiful to consider
He was a BIIIIIIIIIG protector of Nature, and photographic admirer of her beauty
A father who took his family out into the wilderness when he worked taking photos
35-year service as a professor at the state university, ASU
The first recipient of ASU's MFA in Photography degree
He was the one who started the university's student artist gallery, with the help of students who desperately needed the space
A funny person, who loved women, cool clothes, and was adored by his friends, students, colleagues, and Art fans
More and more and more
After a conversation or three with Sabina,
we worked out a deal, so that we could work together without exchanging money. Soon after, I learned that Sabina's father was famous. She didn't tell me like that, other people that knew him told me, as I contacted them, and started going through all of Jack Stuler's records. Famous, but instead Jack Stuler — Sabina's father — didn't give two sh*ts about being famous. Yes, even though he won all sorts of local, regional, and national awards. Yes, even though he hung out with all his friends, who like him, were THE mid-century black and white photographers. You know all of their names, including Ansel Adams (who was old enough to be Jack Stuler's uncle).
There is only one way
for me to describe Sabina's desire to immortalize her father: PERFECT. I don't use the word perfect often, when being serious. Most things and experiences have flaws. Except for some reason, all of the success that Sabina has had since last June in organizing a non-profit organization in her father's name, has felt perfect to be around. What's more, is that she and I truly enjoy working together. We are seeing big progress be made, as we support and dare each other to be more and more effective, creative, and in joy.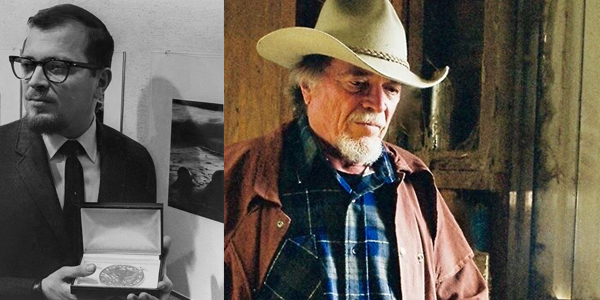 Shown: Jack Stuler (left) as a young man and (right) as an aged gentleman. All Rights Reserved. (c) 2017 Jack Stuler Foundation and www.jackstulerfoundation.org.
There is good news,
which is that our inaugural non-profit event is being held soon in Phoenix on April 12, 2017 in the evening. The event is called, "The Final Picture: A History and Legacy of Master Photographer Jack Stuler" held at Phoenix Art Museum. PAM is familiar to Jack, where he won big awards, and where he had his retirement show. The event is coming up soon and you're invited.  The event link is below, where you can learn about what will be discussed during the 1-hour event. I've been privy to all business dealings of this newly-formed non-profit organization. Sabina's Directorship is blooming, and during the program she will be making a big announcement or two.
My role since last June has been as a consultant,
and as a founding member. There are many moments so far where my having a unique arrangement and ties of appreciation to this project and the man I didn't know, has been spiritually fulfilling. In my opinion, the spirit of Jack Stuler is strong each moment that Sabina and I are working towards further development of all the new programs. Jack's work in the Arts is ultimately going to benefit students like those he taught, by providing them with opportunities to gain direct financial support as they approach and meet graduation. The financial aid program is not a scholarship, but an awards-based concept. The official launch of the organization will proffer perfect results for Arizona college aged Art students. (RARE NOWADAYS!)
At The 4/12 Event Come See Our Work & Some Incredible Photography Artifacts!
Here are some links, and I hope you join me at the event on April 12.
From The EventBright Page
More about Jack Stuler
While simultaneously developing his art form, Stuler significantly contributed to the development of the fine art community in Arizona in many ways. He started his career by earning the first Master of Fine Art degree ever awarded at Arizona State University in 1961, and he was immediately hired to develop the first Fine Art Photography program at ASU and headed the department for 35 years, spearheading the creation of Northlight Gallery, the first gallery in the East Valley to to show fine art photography. His art was becoming well known and highly collectible, grabbing the attention of prestigious art book publisher, Nazraeli Press, who published a book of his work titled,
In The Nature Of Things
in 1987. His work is part of the permanent collections of Massachusetts Institute of Technology, the Bibliotheque Nationale in Paris, George Eastman House in New York, and the International Center for Photography at University of Arizona. He studied under Ansel Adams and Van Deren Coke in his early years, and earned their praises. Hitting close to home, here at Phoenix Art Museum, he was awarded first place and third place at the very first Biennial Phoenix Art Museum's Photography Award Competition in 1976. At the end of his 35-year career at ASU, PAM held a retrospective of his work and an artist talk in 1997 when he retired. Stuler recently passed away in 2015 at his home in Payson, Arizona. At 82, he was still actively photographing. Stuler's work holds a wild passion and mystery that evolved over his lifetime, and when viewed as a whole body of work, one sees the quest unfolding and evolving.
Thank You to everyone for their early support.